The Coleraine Battery - Battery Roll Call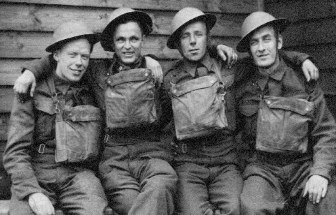 1939 - 1945
---
---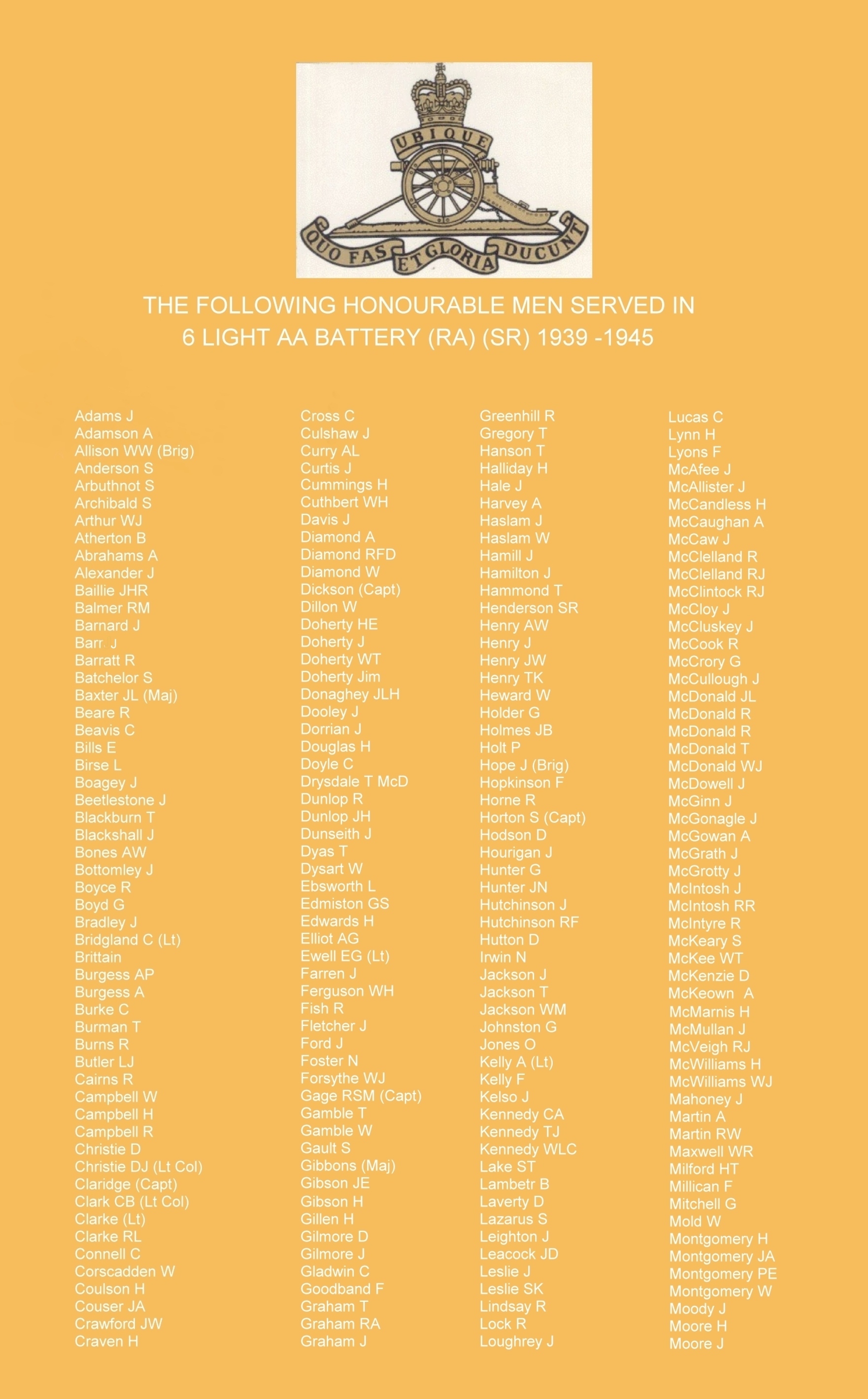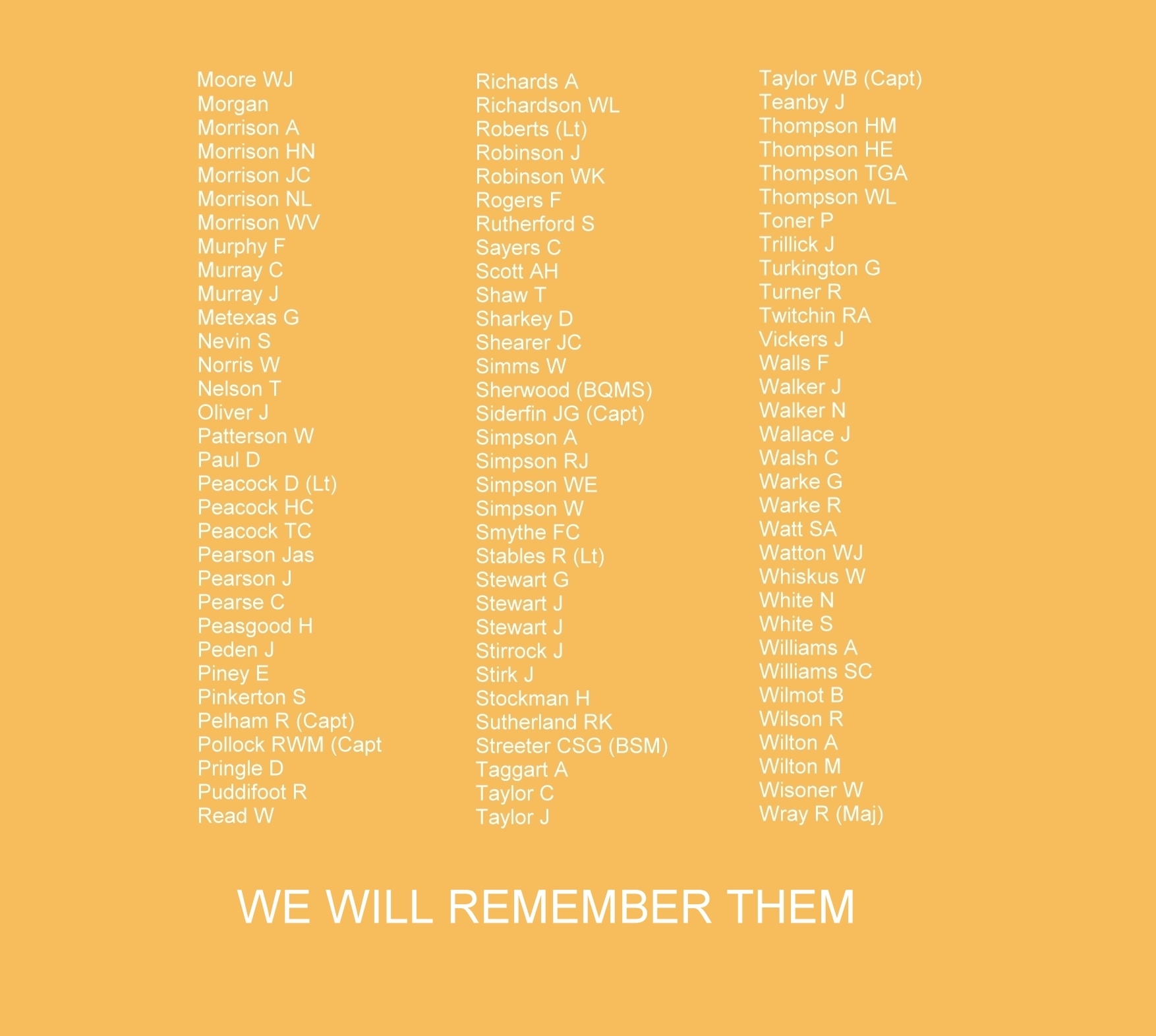 The Johnston Robinson Story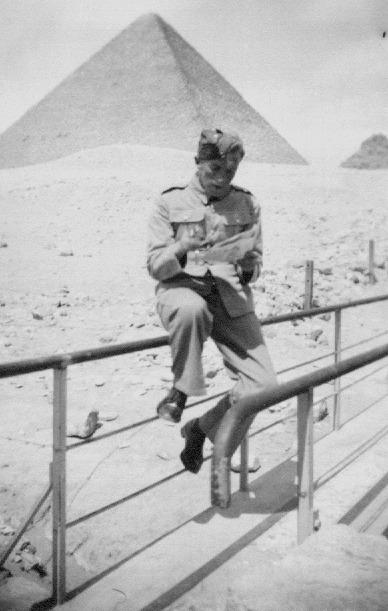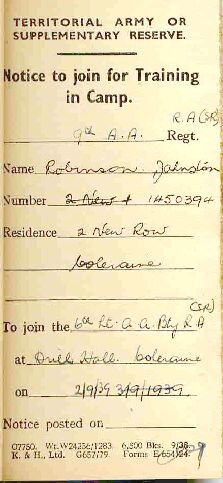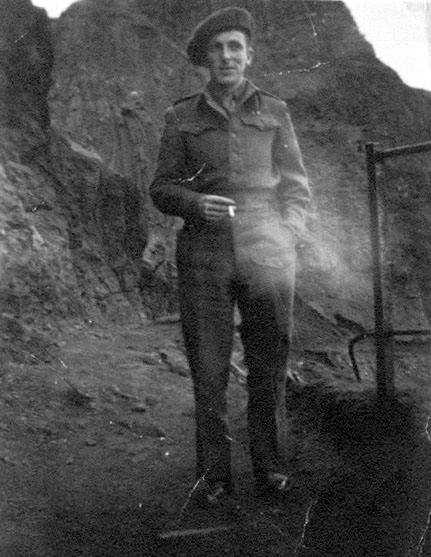 Intro Johnston was born in 1910 and educated at the Irish Society School in Coleraine. He was also a member of 2nd Coleraine Old Boys Brigade Silver Band.
Volunteer On April 1 1939, Johnston, then resident at No 2 New Row, Coleraine took a walk up the street to the recruiting office near Bobby Love's Seed Shop. There he signed on for service in 6 LAA Battery. This unit was to be based in Coleraine at the Calf Lane.
That year, before Johnston could take part in any serious training or even get away for the promised training fortnight in Morecambe, war was declared. General Sir James Steel from Ballycarry signed the mobilization order that took Great Britain and Northern Ireland to war.
Scotland Johnston had a couple of months grace before the Battery was posted to Scotland for the first year of the war. He had time to have his photo taken alongside eleven other members of the 2nd Coleraine Old Boys Brigade .Silver Band. At that time, Johnston was attached to X troop. They were responsible for the security in the Rosyth area. This task included the Royal Naval Dockyards and Ammunition Dumps. Y Troop were posted to Wick and Aberdeen. The Mid Ulster group, Z Troop, were carrying out similar duties at Grangemouth.
After the Scottish posting, Johnston went on leave from August 15th until 22nd 1940. After a well-earned rest, the Battery moved straight into Bofors Gun training on the English Artillery Ranges. First stop was the Practice Camp at Cark, Lancashire from August 26th until 30th. Second stop was Minley Camp, Aldershot Hants, from August 31st until September 8th 1940. From Minley, the Battery moved down to Farnborough and were fitted and kitted out for the Far East.
The Move Under the cover of darkness, on September 8th, 1940 the Battery sailed from Liverpool. Major James Hope now commanded the Battery. They were now heading for Egypt on board the MV Dominion Monarch. The dates and locations for this journey were as follows:
<![if !supportLists]> · <![endif]>September 9th 1940, Liverpool
<![if !supportLists]> · <![endif]>September 23rd until 25th 1940, Freetown
<![if !supportLists]> · <![endif]>September 27th 1940, Equator
<![if !supportLists]> · <![endif]>October 4th until 6th 1940, Capetown
<![if !supportLists]> · <![endif]>October 15th 1940, Equator
<![if !supportLists]> · <![endif]>October 22nd 1940, Port Tewfik
AA Defence of the Suez Canal On completion of their training in Beni Suef, the Battery was split up for three separate tasks along the Suez Canal. Here they were operationally deployed from November 7th 1940 until July '41. X Troop, Gunner Robinson included, were responsible for AA Defence of the Suez Oil Refinery.
Mobile Patrolling From August 10 1941, the Battery were responsible for providing AA Defence to different units in the desert, they also carried out aggressive patrolling duties throughout the Western Desert. It was during one of these patrols that Gunner Johnston Robinson was captured by the Germans. Also captured were Sergeant Billy Oliver, L/Bdr Jim Hamilton, L/Bdr Willie Dysart and Gunners Teddy Doherty, Jack Backshall, Teddy Blackburn, Robert Cairns and John Boyd. L/Bdr Willie Dysart escaped and went on to rejoin the Battery again. Because North Africa was the Italian campaign, the Germans handed their prisoners over to the Italian Army.
"When Johnston Robinson was captured it was early in the morning. We all did our toilet and had breakfast and were getting ready to move. I heard a single shot 'whanging' in. We stopped the 3 Tonner and waited to see if another shot came in and displaced the sand or if there was any tracer. This would have given us an idea of the direction of the enemy. It's a powerful sensation hearing the 'whang' of a heavy calibre round hitting the ground close to you.
Lt. Machie Pollock, his father was the local Vet, was in charge of the patrol that day. He was mounted on the Water Cart. When we 'broke laager' he gave us the signal to follow him and we ignored this. At that stage we had worked out where the enemy fire was coming from. Mackie and his group moved off and were captured by the Africa Corps.
The Africa Corps followed us for about 10 miles. One vehicle was hit so we stopped to pick up the crew and put a couple of rounds into the petrol tank. The enemy probably thought we were leading them into an ambush so they stopped chasing us. We travelled on and came across a Bofors Gun so we got the wheels out and limbered it up to our 3 Tonner. Later on that night we met up with the Guards Brigade patrol and laagered up." Robin Martin (2004)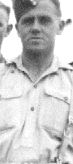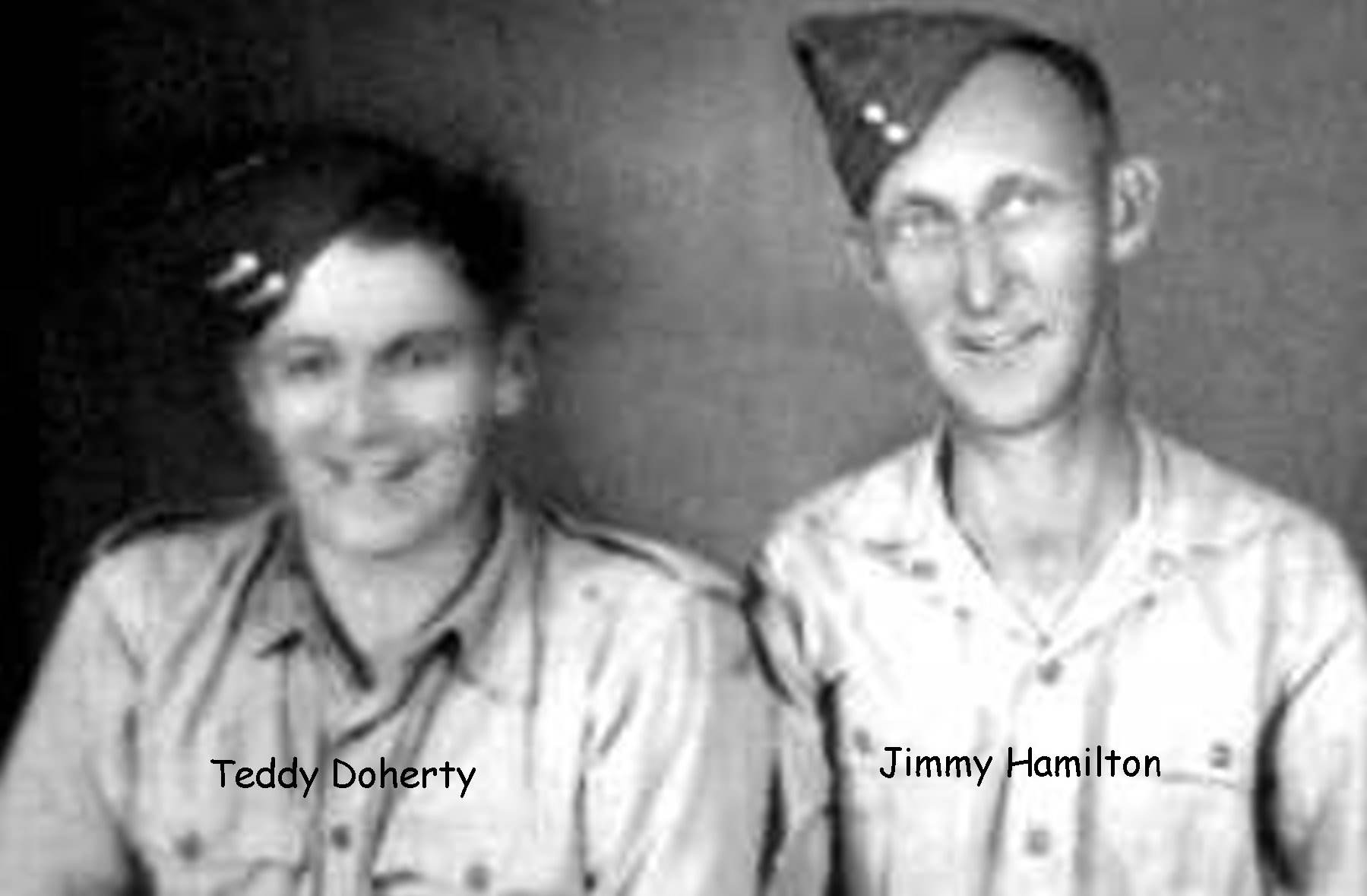 Sgt Willie Oliver - Teddy Doherty - Jimmy Hamilton
Prisoner of War - Italy The POW's were taken on separate ships to POW camps in Italy. Johnston's ship was torpedoed by a British submarine en route and he had to tread water until another Italian ship picked him up. There is no readily available information on the movement of individual POWs during their internment in Italy. But, Johnston was interned in Camp 65. (Hugh McKirgan, 2004) The anecdotal information is also very limited at present. Richard Doherty passes comment on the atrocious treatment of 'Irish' POWs in Italy in his book 'Irish Volunteers In The Second World War'. (2002) The Italians were responsible for denying their prisoners adequate food, Red Cross parcels and also ill-treating the sick. (p.285)
The POW's were moved at least three times during their internment in Italian POW Camps. As the Allied Armies approached their final camp, the Italians handed their prisoners over to the Germans.
Prisoner of War - Germany Robinson J Gnr. Army No. 1450394 POW 226701 Camp Stalag IVC
Freedom Johnston was released by the Ukranian troops of the Red Army on April 23 1945. After two weeks the released POWs were marched to Riesa to the North West of Dresden. Several weeks later they were handed over to the US Forces in the area.
Johnston died in Belfast City Hospital from kidney failure on 22 November 1989 at the age of seventy nine.
The Harry Neil Morrison Story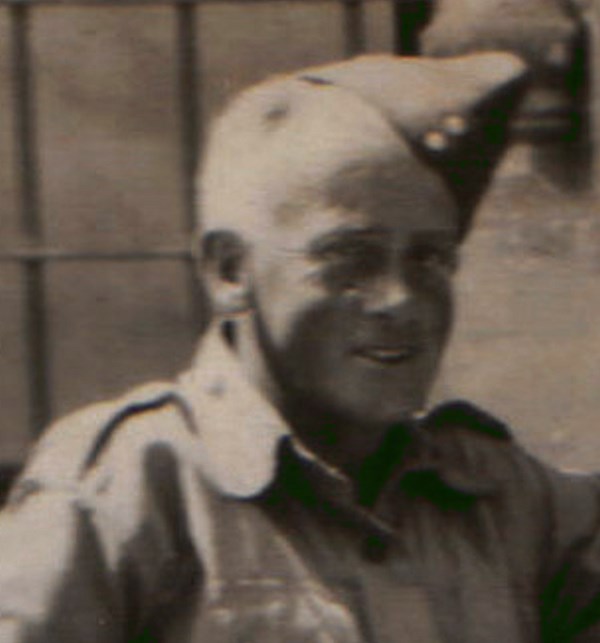 Harry saw service with the Colours in two periods. From 14-10-31 to 12-10-34 and 02-09-39 to 07-01-46. This last period included action with the British Expeditionaty Force from 28-03-40 to 12-04-40 and then action in the Middle East from 04-10-40 to 05-01-45.
Harry was born of Scots/Irish parentage in Leeds in 1902. He moved to Warrington at an early age where he spent his formative years. On leaving school at 14 he worked as a cost clerk before enlisting in the Royal Artillery Regular Army in 1931. He served with 22nd Field Battery and was released to Army Reserve on 13-10-34.
Harry was mobilized on 02-09-39, as was all the Coleraine Battery. He was posted to 55th Light Anti Aircraft Regiment and served in France (Le Havre, Montvilliers and Dieppe) before returning to the UK in April 1940. His next posting was to the 37th Light Anti Aircraft.
He sailed from the Clyde for the Middle East on 5-10-40 in convoy on board the " M V Georgic". The next day the convoy was attacked by German bombers and one of the ships (The Orancies) was badly damaged and forced to turn back. Stops were made at Freetown, Cape Town and Aden before reaching Cairo. Harry was then struck down with dysentery and was hospitalised for 12 weeks, with a further 5 weeks convalescence. He was cared for at 2/10 General Hospital in Cairo from November 1940 until January 1941. His fellow patient was Ariste Sophie from Mauritius.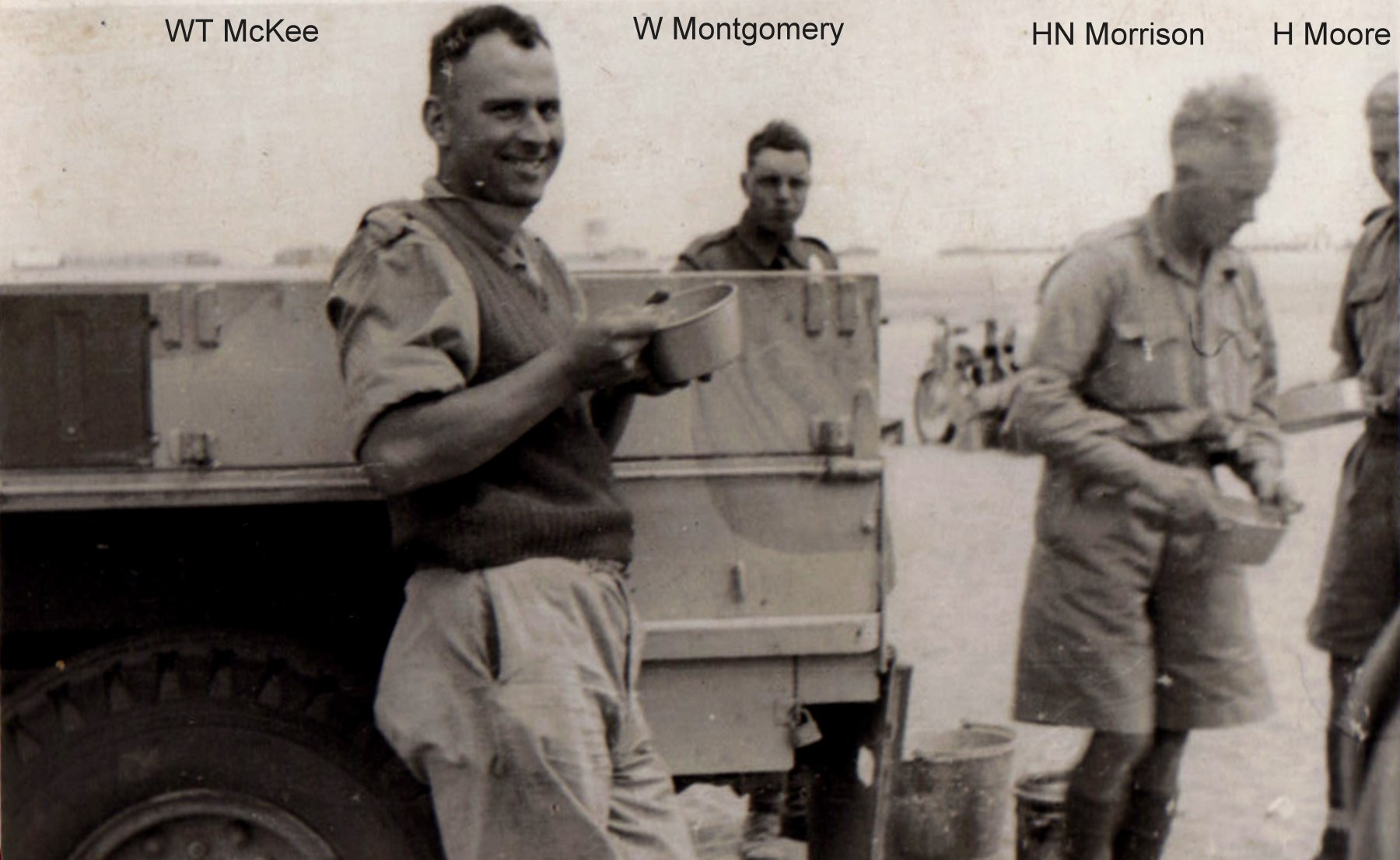 Harry was then posted to Z Troop 6th Light Anti Aircraft Battery on 26-03-1941, who were doing Ack/Ack defence on the Suez Canal. Whilst there he managed to visit Jerusalem, Bethlehem, Jericho and the Dead Sea.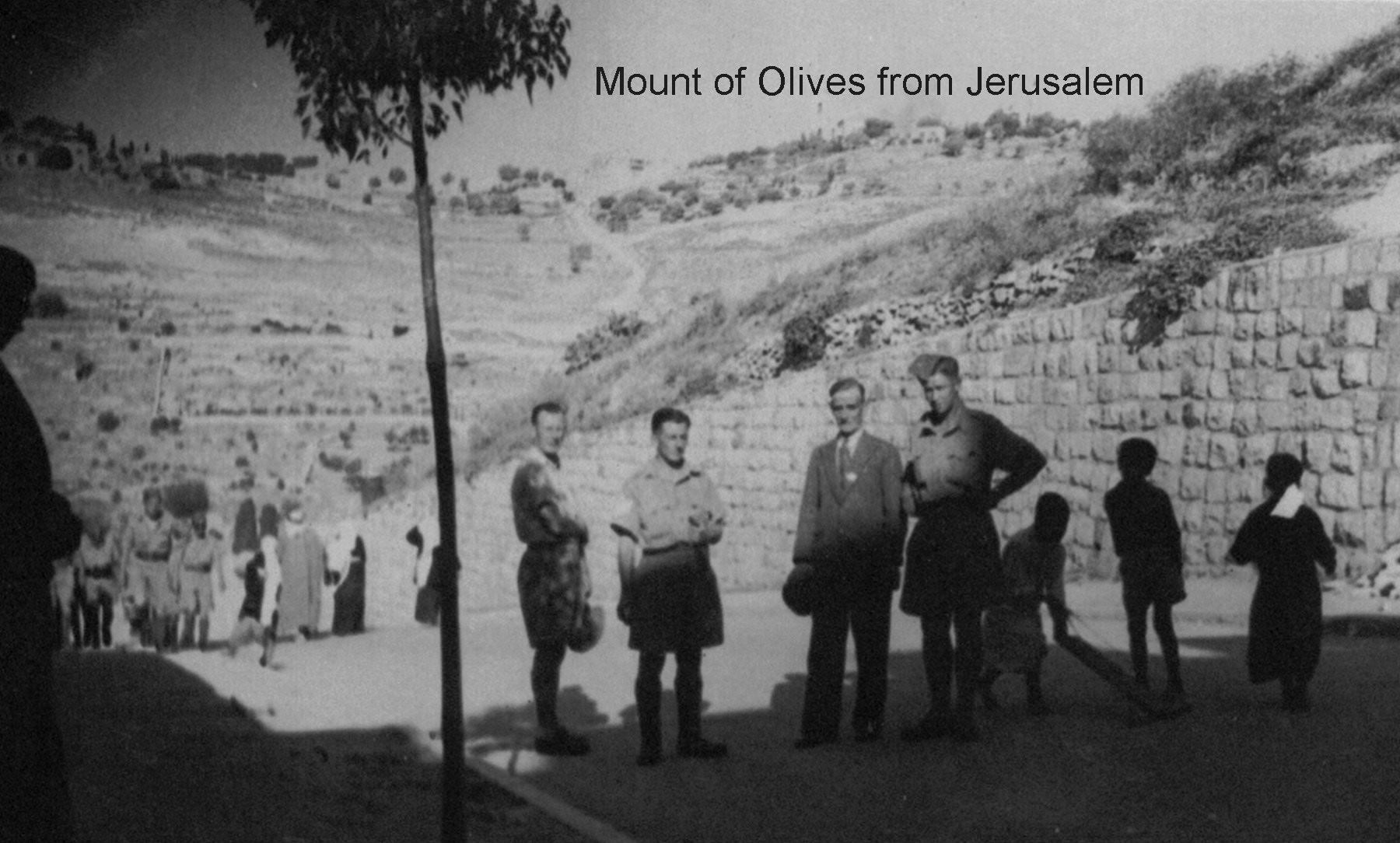 Z Troop (South Derry) then moved from the canal area arriving in Sidi - Barani in August.
At the age of 39 Harry was promoted to Lance Bombardier on 31 July 1941. When he returned to Civilian Life he was almost 43. As a civilian he went back to clerical work until he retired in 1967. Harry died in Jan 1969 at the age of 67.
An Episode in the Western Desert - From Jarabub to Jalo
By L/Bdr Harry Neil Morrison, transcribed by his son David Neil Morrison.(2005)
"The event I wish to describe to you started from the oasis of Jarabub, which lies some 40 miles inside the wire across the Egyptian-Libyian border.
Mussolini reached out for this strategic spot long before this war broke out. The Egyptians adjusted the border and Italy got Jarabub in return for land in the neighbourhood of Sollum. Jarabub was taken by the Australian troops early in 1941 and remained in our hands until we were forced to retire to El-Alemein. The oasis of Jarabub is situated about 150 miles S W of Mersu-Matru, and is composed of a few mud and stone buildings, and a small date palm plantation, and of course the fort built by the Italians. There is also a Mosque that was taken over by the Moslem Indian troops during the absence of the natives.
Jarabub lies in a hollow surrounded by rocky cliffs. Two passes lead into the oasis through narrow gorges. I might also mention here about Siwa. I stayed there for two days. Siwa oasis lies in Egypt just across the border about 40 miles from Jarabub. Siwa is a somewhat larger place and is more fertile, plenty of date palms, pomegranates etc are cultivated. It is also a very ancient place, and its history goes back many hundreds of years to the time of Cleopatra, who is supposed to have bathed in the beautiful clear water of the pool there. This pool I might mention came in very handy for the lads to bathe in. There are also numerous fish in it. How they got there I don't know, considering that for miles outside the Oasis nothing can be seen except the endless sandy wastes of the desert.
Well to continue the narrative I will return to Jarabub. During Sept to Nov 41 convoys of stores, petrol etc arrived daily, and rumour ran high amongst the boys as to what was going to happen. But we just kept on waiting; the lads passing their time with a little gun drill, PT, games and an occasional shot at a German or Italian plane. I must mention here that the flies were terrible. It was nigh impossible to eat during the day for them. But in the evening we had a good tuck in when it was cooler.
During the early part of Nov/41 word came through to pack ready to move, and a few days later we moved (The 29th Indian Brigade) to which the unit I was with was attached, along with several other units which I will mention as far as I can remember. Apart from the Sikhs and Punjabis we had the South African 6th and 7th Armoured Rec Coy and also a battery of South African 25 Pound Field Guns. A section of a British Anti-Tank unit (2lbs guns) and 2 troops of the 6th Lt AA (Bofors) to which unit I was proud to belong. This unit were all volunteers, with one or two exceptions like myself being a reservist. Most of these boys came from Ulster, the district round Coleraine.
Well on Nov 9th we moved out in convoy from Jarabub to a given rendezvous about 40 miles due north where we stayed for the night, the supply column followed about 8 miles in the rear. Next day after breakfast we moved off in Desert formation to minimise the risk of damage or casualties if attacked from the air. It was a sight not to be forgotten, about 400 vehicles and guns moving along through the desert.
All went well for two days but on the third morning just after breakfast a spotter enemy plane had a little peep at us and off he went just like a bird of prey to bring his friends (but not ours). And sure enough about one hour later they came diving down; 2 M E 111's and a couple of Italian Capronis. At this time we were having difficulty crossing a wadi owing to the sort sand. The planes dropped anti personnel bombs and straffed, but luckily not a great lot of damage was done. Our troop lost one three ton lorry and also a Bofors Tractor and I am sorry to say one of the boys was killed (Paddy Toner) We buried him alongside the burnt out vehicle, many miles from civilisation where in peace time only wandering Bedouins with their camels are seen. The planes came over at intervals until about 3 pm and by that time we had managed to cross the wadi, and after tea the column closed in for the night and the darkness we prayed for. We were all soon fast asleep.
The next day it was the supply column's turn to be bombed and straffed, and the other troop of the 6th Battery bagged a plane, an Italian Caproni. One of the crew managed to land safely and was taken prisoner. The following day we split up into 2 columns to advance on the Italian occupied Jalo Oasis. This Oasis lies about 200 miles due south of Benghasi, and is composed of two small forts about 15 miles from the Jalo fort proper.
After splitting up, the section I was with proceeded on to the small fort of Angula. We were about 40 miles away and had great difficulty moving through the soft sand. Guns and trucks had to be dug out and pushed, and we had to scatter when low flying planes tried to machine gun us. But on we pushed to our goal, eventually arriving only to find that the fort had surrendered to four South African armoured cars after a few shots. I am sorry to say that 4 South Africans lost their lives when their armoured car was shot up. We stayed here the night where we managed to get some eggs from the natives in exchange for tea. The number of Italian prisoners here was 40.
The next night at 10 pm we formed up ready for our journey through the night to enable us to be in a position to start the attack on the main Jalo fort. We moved silently on through the dark until we arrived on the outskirts of the Oasis, where at the first sight of dawn we dug in ready for action.
Jalo lies in a hollow surrounded by date palms, but unlike Jarabub there are no rock formations, just sand and little shrubs that the soldiers called desert grass. We took up a position on the higher ground doing A A defence to the Artillery. The Infantry had moved in closer and as soon as it was light enough the field guns opened up and kept firing at regular intervals.
Two hours later 2 Hurricanes came over and flew on towards the fort, followed up by what we thought at first were friendly aircraft as they approached from out of the sun, but they turned out to be Italian fighters and bombers, about 10 in all. They swooped down machine gunning the Field and Bofors guns, and also dropped several anti-personnel bombs, some of which failed to explode. The Bofors opened up and chased them away scoring one hit, a CR 42 which dived to its doom amongst the palm trees where we afterwards found the wreckage.
Enemy planes came over several times but we kept on attacking the fort and as the day wore on we gradually closed in. The biggest difficulty was silencing the Italian Breda 20mm Guns that kept popping shells at us from the cover of the trees and we did not want to cause any casualties to the natives nor damage to their dwellings which were situated quite close to the fort. At 7 pm the South African gunners had by now moved close in and for 25 minutes sent shell after shell in amongst the palms, and then at 7-30 the Punjabis and Sikhs charged the fort, and in a few minutes the fort and about 700 prisoners were ours.
Next day all was quiet and we all had a well earned rest, a good wash and a shave which we had not had for about 7 days. We managed to get plenty of eggs and vegetables from the natives and stayed at Jalo until the 19th of December before moving north to capture another Italian fort called Geof-el-Matar. It fell without a shot being fired, and we took about 40 more prisoners.
At this time we were well in front of our main army advancing along the coast, in fact in the rear of the Jerries and Italians who were still giving battle in the Derna area. We could do nothing but just sit and wait events. Well by Christmas Day the Jerries had retired along the coast road, missing us to Agedabia. Christmas Day was a very dry day; no drinks, no smokes—tinned sausage for breakfast and bully stew for dinner. On 2nd Jan I was taken ill with suspected diphtheria (which afterwards proved to be a bad attack of tonsillitis) and so I was taken by ambulance in stages to Tobruk, Mursa and then by train to Cairo to this base where I still am".
"My father would have written this at Almaza Camp, Cairo where he remained till Boxing Day 1944. He then sailed from Port Said arriving in Gibraltar on New Year's Eve, and then to Liverpool where he arrived on the evening of Jan 7th 1945." David Neil Morrison 2005
William Gamble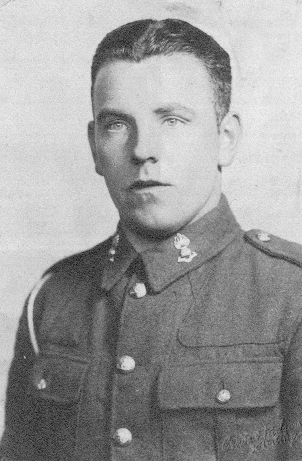 1911 - 1977
Gunner Army No. 1450277
Employed on No7 Bofors Gun Y Troop 6 (Coleraine) Light AA Battery
9th Heavy AA Regiment Royal Artillery (SR) until Oct '41 then
27th Light Anti-Aircraft Regiment, Royal Artillery (SR) until 1945
Joined 18th April 1939 at the age of 28 and was discharged on the 9th June 1948
Army Reserve 10th June 1948 - 1st June 1952
Operational Service
With the Middle East Forces in the Western Desert in Egypt from 9th September 1940 - 10th December 1943.
With 30 Corps From Normandy to Germany from 1st July 1944 - 21st October 1945
Born 27/12/1911 Died 19 March 1977
At the age of 34 William was married to Ex- Leading Aircrafts Woman, WAAF Martha McSheffery aged 24 on the 7th November 1946. The best man was Williams brother, Sgt (PTI) Jim Gamble, Airborne Division. The Bridesmaid was Miss Nancy Eaton.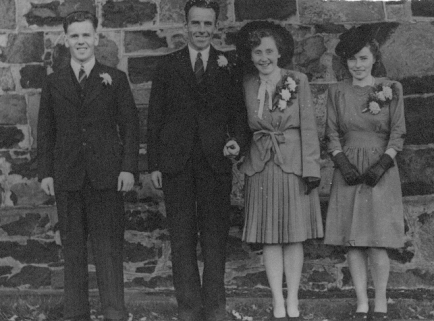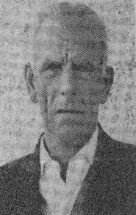 Thomas Gamble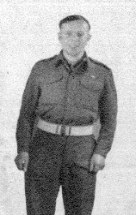 1912 - 1972
Gunner Army No.1456667

Employed on No 7 Bofors Gun Y Troop 6 (Coleraine) Light AA Battery

9th (Londonderry) Heavy AA Rgt. (SR) until Oct '41

15th Light Anti-Aircraft Regiment, Royal Artillery (SR) until 1945

Joined 1st September 1939 at the age of 27 and was transferred to the Army Reserve on the 14th Feb 1946

With the Middle East Forces in the Western Desert, Egypt from 9th September 1940 - 10th December 1943. Including The Battle of El Alamein 1942

With the 1/15 Light AA Regiment 8th Army in Italy from 1944 - 1945

Born 2/8/1912 Died 13/7/1972
1939 Married in Killowen Parish Church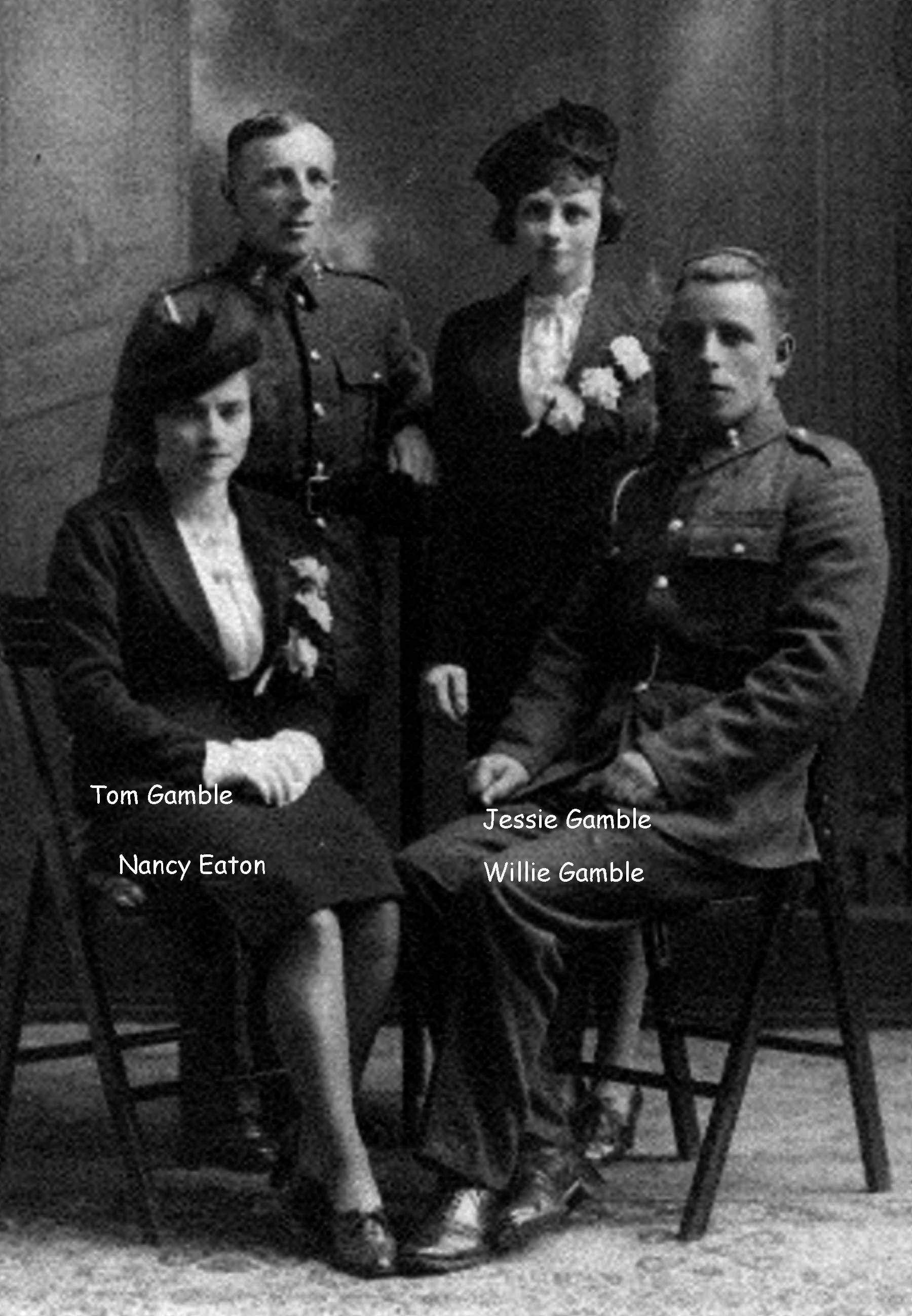 | | |
| --- | --- |
| Tom Gamble | Jessie McSheffery |
| Nancy Eaton | William Gamble |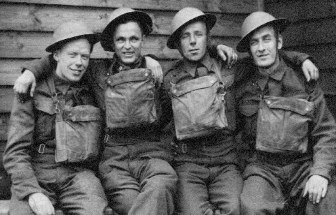 A. Thompson W. Diamond T. Gamble R. McCook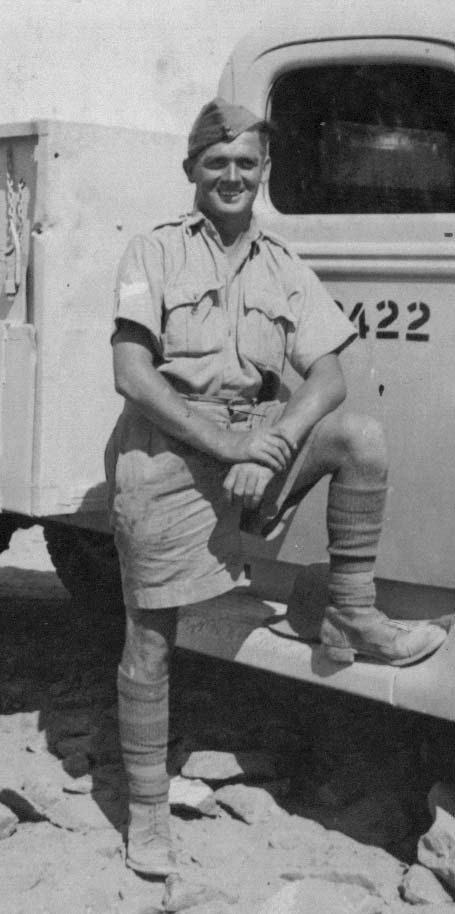 Robert Pattison McClelland Joe McClelland 1943
Robert McDonald
War Substantive Bombardier No 1458754

Joined the Battery 4th April 1939

Discharged from the Battery 27th April 1946

Married on 26th Oct 1939 to Sarah Jane McConaghy. The Best man was Thomas McDonald, my younger brother. The Bridesmaid was Annie McConaghy Sarah's younger sister.

In Egypt, the Battery was attached to 2nd Light Anti Aircraft Regiment. Bob was posted to the Regimental HQ as a Signals Instructor when the Battery was taken home. He was transferred to the 32nd Battery 22nd Field Regiment RA, in the British 4th Division in Italy. He did not return home until 5th April 1945.

There were four groups of three brothers in the Battery in 1939. The McDonalds, The Diamonds, The Dohertys and The Simpsons.
Brothers Robert and Tom McDonald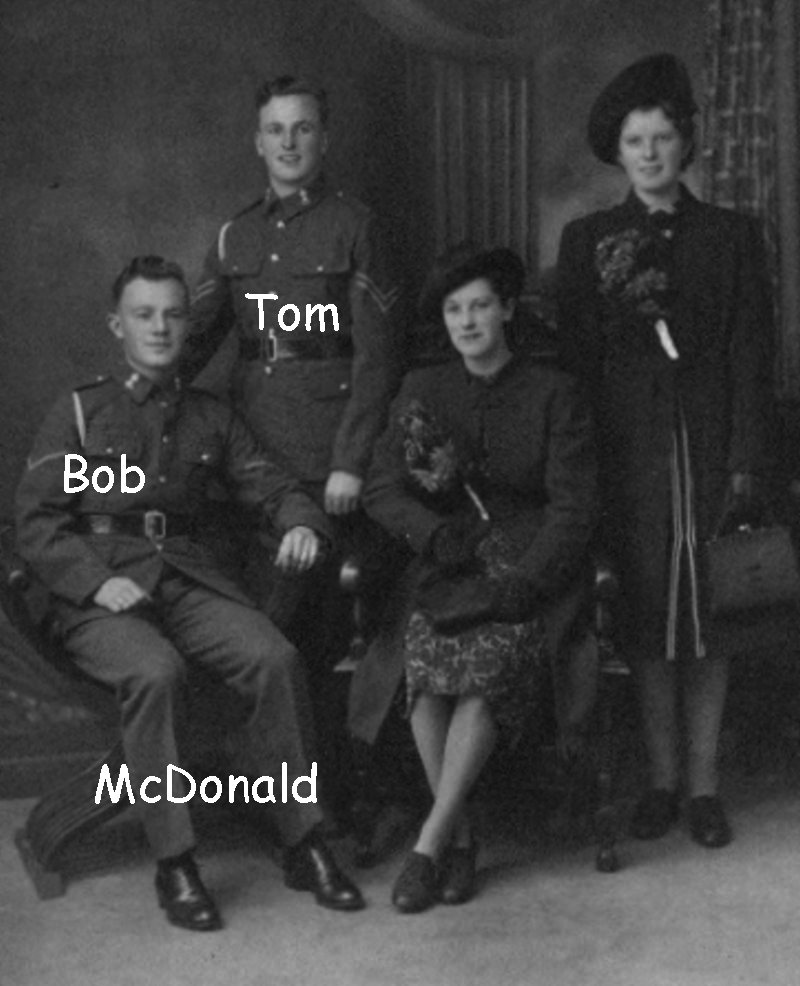 Wedding Group October 26th 1939
L/Bdr Robert McDonald and Sarah Jane McConachy. The Bestman was Bdr Tom McDonald and the Bridesmaid was Ann McConachy
Ezbekieh Gardens, Cairo 1943
Bombardier Robert McDonald, friend and Sgt Tom McDonald who later became the Sgt. Major of the Battery Depot, Royal Artillery
Norman Irwin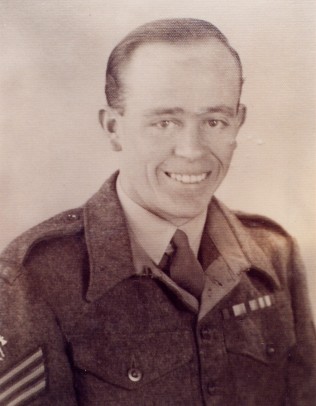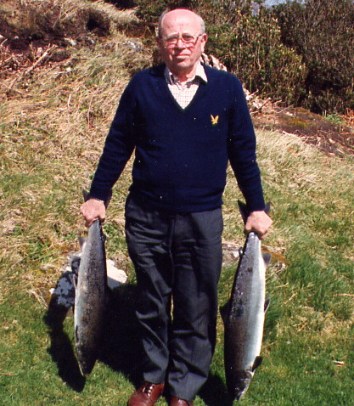 | | |
| --- | --- |
| 1945 aged 26 | 1998 aged 80 |
William Campbell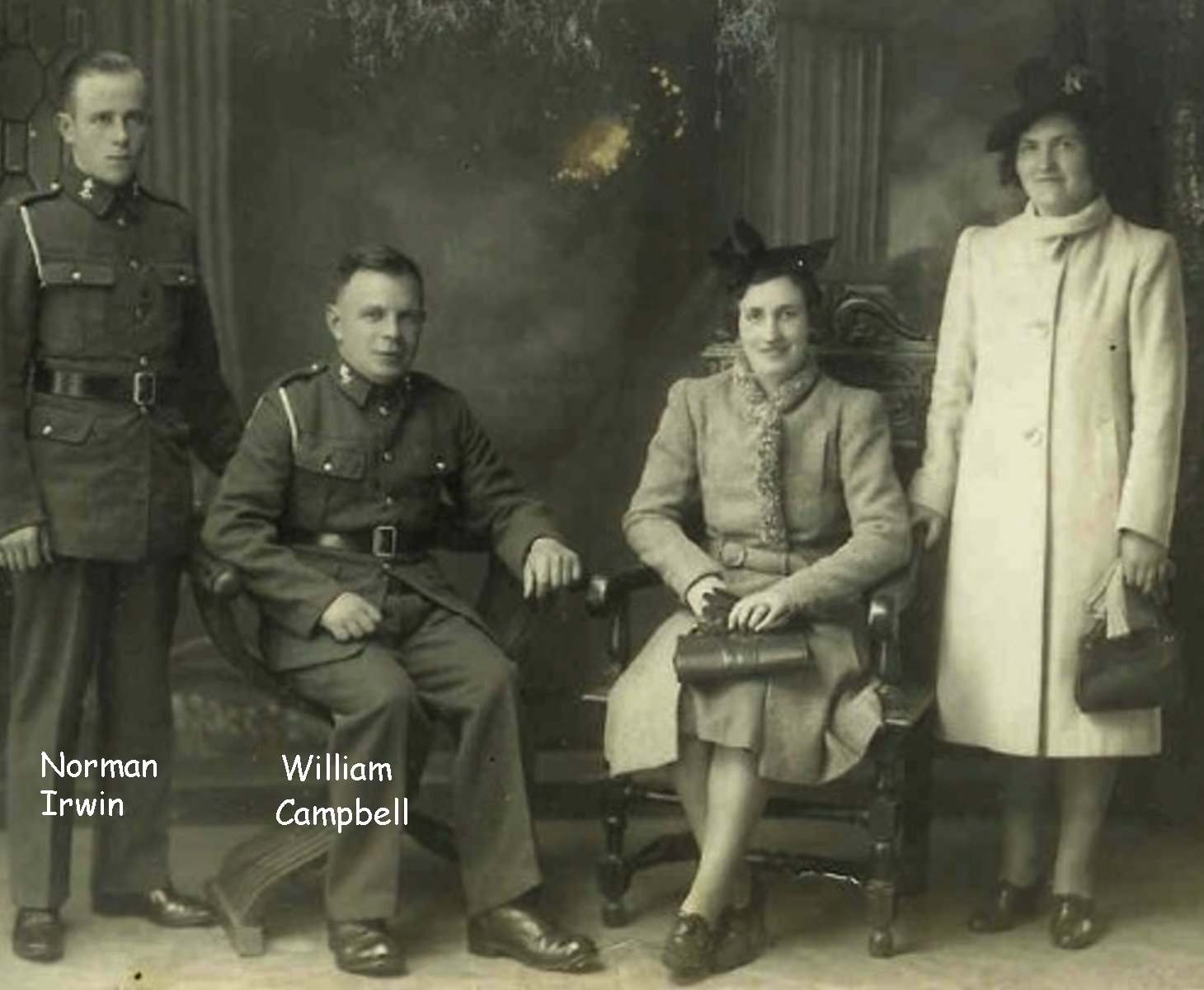 Norman Irwin William Campbell Jean Simpson May Simpson
William Campbell on the extreme right. After a battle on the Gazala Line 1942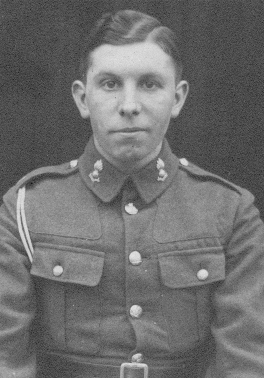 Willie Norris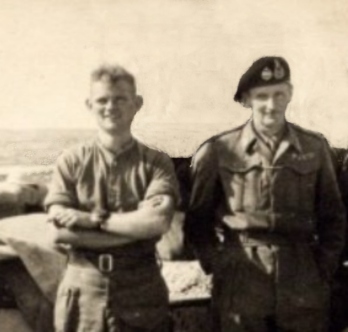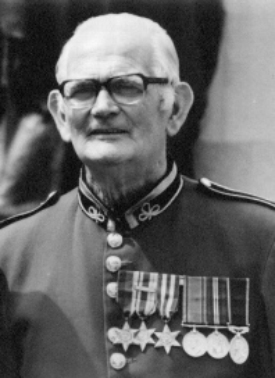 RJ Simpson 1943 -- 1992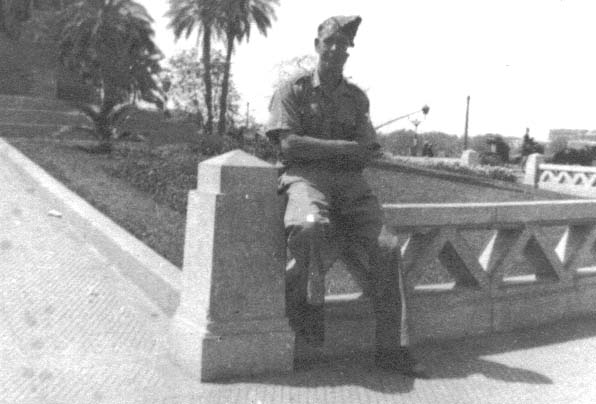 Johnny Haslem 1941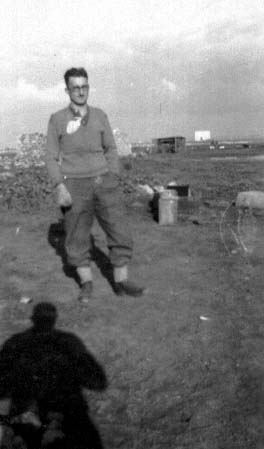 George Cross Benghazi 1943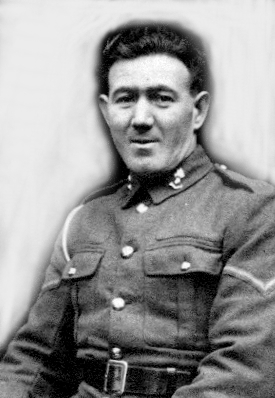 G Warke
---
---